LBS Designer Line – 2018 Collection
When designing a box or binder, you have quite a few customizing options to choose from. Cloth is one of these options that adds a textural feel to your project and creates a sophisticated look. For our Corporate Image binders and boxes, we have the benefit of working with one of the largest cover material suppliers in the U.S. – our parent company LBS. The packaging experts from LBS recently introduced the hottest cover materials and colors of 2018 in their LBS designer line.
You can find more great design examples of cloth covered binders, binders with a spine wrap or cloth covered boxes in our gallery or learn more about cloth binders on our website!
But now, let's take a look at the stunning 2018 collection of the LBS designer line. The variety of tactile materials, both coated and uncoated, is ideal for projects such as menus, journals as well as luxury packaging. Gorgeous colors from bright to neutral complement each other and spark ideas for unique designs. The selected materials decorate beautifully with foil stamping, too.
From vibrant to nostalgic: set the right mood for your next packaging project and be inspired by the beautiful color combinations and unique textural feels of this hand-selected cover material line.
Exotic – Striking colors that are out of the ordinary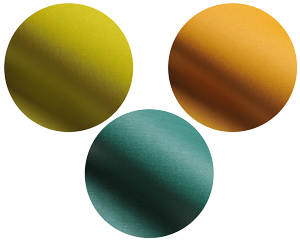 Think tropics with this combination of Verona® Lemongrass, Arrestox® B-Cloth Field Green and Verona® Hot Toffee. Exotic colors are being used as eye-catchers in high fashion and interior design, creating curiosity for the unknown. Incorporate this longing into your design and get your packaging project noticed!
Crisp – Cool and clear colors exude simplicity and elegance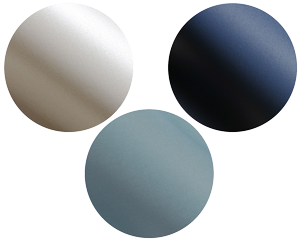 Inspired by a beautiful clear morning sky, the combination of Luminaire™ Pearl Drop, Ottawa Sea Mist and Pearl Linen®Midnight Blue reflects infinity and tranquility. Blues and whites are often used to create a peaceful, timeless atmosphere and make for a cool package design.
Energetic – Powerful, bold colors possess a high level of activity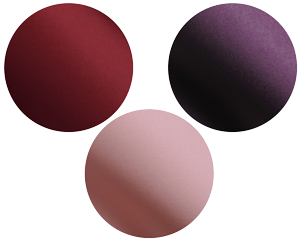 This exciting combination of Feincanvas Tabasco, Iris® Orchid and Verona® Plum symbolizes extravagance and strength. The deep red indicates courage while the dark purple is associated with independence. Designs using this energetic combination will demand attention.
Nostalgic – Soft, subtle colors trigger happy memories from the past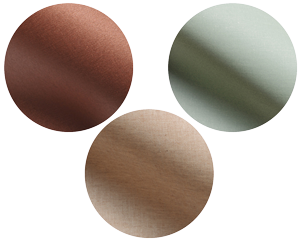 Chromo Copper, Cot-Linen Oatmeal and Pearl Linen® Seafoam Green have a sepia notion to them. They visualize the longing one feels when thinking of warm childhood memories or the good old days. This color combination can be used to create a nostalgic design and induce sentimental notions to your project.
Monochromatic – Greys from almost black to almost white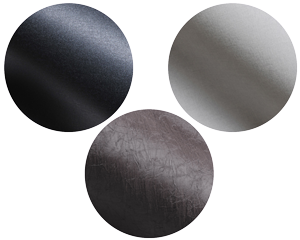 Greys are considered neutral, steady, and sophisticated and are a classic among designers. Our monochromatic combination consists of Chromo Lava, Tsarina Crush Grey and Verona® Smoke. These tactile materials create excitement, which makes them an elegant option for packaging designs.
Vibrant – Vivid colors pulsate with enthusiasm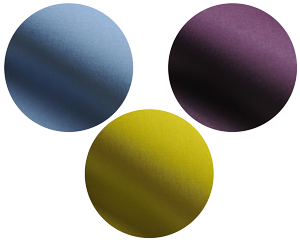 The colors in this vivid combination are throbbing with life and activity. Combining Verona® Steel Blue, Verona® Lemongrass and Verona® Plum creates a dynamic feel, shows youthfulness and power and grabs attention. Creating a design with this vibrant combination makes a bold a statement.
Fresh – Delicate, soothing colors associated with youthfulness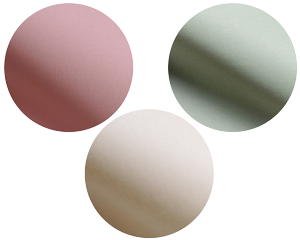 This pleasant combination of Iris® Orchid, Iris® Ivory and Pearl Linen® Seafoam Green evokes peacefulness and rejuvenation. These fresh colors are first seen during spring, signaling the beginning of new life. Soft colors are most commonly used to create a calm feeling, suggesting safety and harmony.
Vintage – Warm, neutral colors pleasantly reminiscent of an earlier time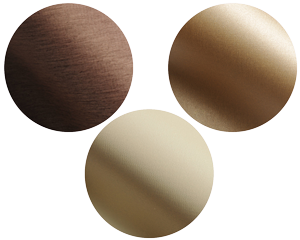 The colors of this combination offer a form of ease in a fast-moving world. Colibri Coco Wood, Luminaire™ Champagne and Arrestox® B-Cloth Canvas create familiarity and comfort. The tone on tone appeal creates a warm feeling of timelessness and is ideal for subtle packaging projects.
Please contact your sales rep today to receive a swatchbook showcasing this beautiful line. Or ask them for a sample of one of our binders or boxes. We look forward to working with you!